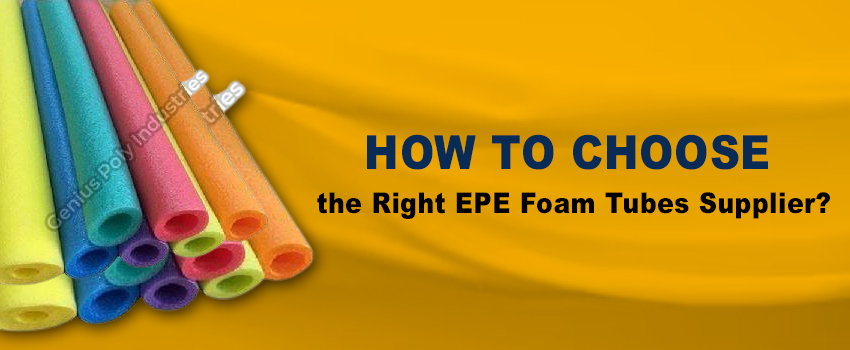 Expanded polyethylene foam tubes, often known as EPE foam tubes, are a form of packaging material that has many advantages for both consumers and businesses. Let's examine some of the benefits of using EPE foam tubes and how to choose an EPE foam tube manufacturer in more detail.
Advice For Choosing a Supplier of EPE Foam Tubes
Making the best option when selecting an EPE foam tube provider can have a big impact on your company's operations. When choosing an EPE foam tube supplier, keep the following important things in mind:
• Experience and Reputation
It's crucial to take their track record and industry expertise into account when selecting an EPE foam tube supplier. Choose a supplier who has a history of delivering top-notch goods and top-notch customer support. To determine how satisfied they were, read customer evaluations and testimonies.
• Product selection and accessibility
Verify that the provider has the particular EPE foam tube you require for your application. To be sure they can swiftly and effectively meet your demands, inquire about their inventory and availability. If you have various applications, you should also take into account if the provider offers a variety of EPE foam tubes.
• Technical knowledge
A supplier of EPE foam tubes should be able to advise you on the most appropriate foam tube for your application. Ask the provider if they have trained staff who can assist with the installation, maintenance, and selection of foam tubes.
• Cost and Payment Conditions
To make sure you're getting a good deal, compare prices from different vendors of EPE foam tubes. Take into account if the supplier provides volume discounts or other price incentives. Review their payment terms as well and make sure they suit the financial requirements of your company.
• Logistics and Delivery
Take into account the logistics and delivery capabilities of the provider. Verify their shipping policies and costs to be sure they can effectively and quickly deliver your foam tubes.
• Customer Service and Warranty
A supplier of EPE foam tubes ought to provide after-sale assistance and a thorough warranty. Check out the services they offer for technical support, troubleshooting, and maintenance. Review their warranty policy as well to make sure it meets the requirements of your company.
EPE foam tubes' advantages
EPE foam tubes are a great option for a variety of packaging and insulating applications because they provide a number of advantages. Let's examine some of the benefits of using EPE foam tubes in more detail.
• Absorption of Shock
EPE foam tubes work incredibly well to cushion impacts and safeguard delicate products during handling and transportation. Due to its cellular structure, foam may compress and cushion objects, shielding them from shock and vibration.
• Portable and adaptable
Lightweight and flexible, EPE foam tubes are simple to handle and manipulate. They are a flexible packaging option since they can be trimmed to size and shaped to fit around products.
• Chemical and Moisture Resistance
EPE foam tubes are a great option for packaging things that can be exposed to moisture and chemicals during shipping or storage. Items are safeguarded and guaranteed to arrive in good condition thanks to this service.
• Cost-effective
EPE foam tubes offer an economical packing option. They are a cost-effective choice for businesses of all sizes because they are easy to create and require little processing.
• Eco-friendly
EPE foam tubes may be recycled, making them a green option for companies that value sustainability. They are recyclable, which lessens waste and aids in the preservation of natural resources.
You can choose a supplier who can deliver high-quality goods and services by taking these aspects into account. They are a well-liked option for companies of all sizes due to their small weight, flexibility, and cost-effectiveness.