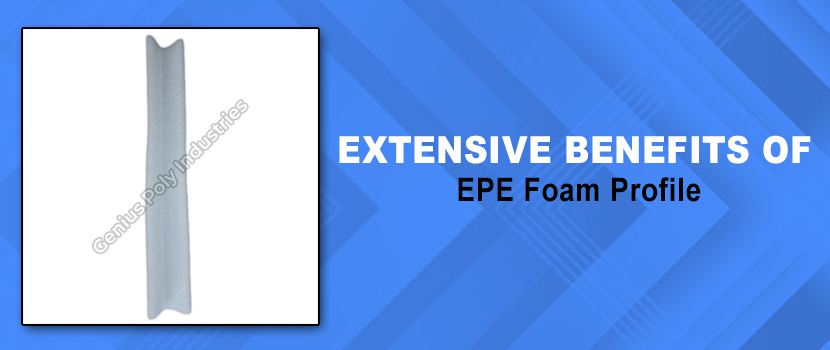 The packaging industry faces major alteration during these years and so are the products related to it. When it comes to the matter of choosing a packaging material, there are innumerable options. Each one possesses its advantages and functionalities to select from.
Among them, EPE Foam Profile is a notable one. EPE Foam Profile is a special sort of packaging item that is used for its immense advantage in the next part of this article, we will discuss some major advantages of EPE Foam Profile. But before that, it is necessary to know the definition and physical and chemical properties.
Definition of EPE Foam Profile
EPE foam is nothing but extended polyethene foam which is a special sort of plastic. EPE foam profiles are long profiles that are made with EPE and are used for different packaging purposes, insulation, buoyant application, construction, automobile pass sports etc. EPE is a special thermoplastic resin that can be melted by different heating and cooling methods. This is to construct numerous shapes and products.
When it comes to the matter of physical properties, EPE foam has no taste or smell. EPE is white and it can be colored with any of your preferred colors. The chemical formula of EPE is (C₂H₄)nH₂. EPE foam is extremely efficient as a packaging element due to its lightweight and flexibility. The main reason why EPE foam is considered the best packaging material is its shock absorption capacity.
Benefits of EPE Foam Profile
As we mentioned earlier the EPE foam profile is extremely convenient, it is used globally for its extensive benefits. Before selecting your preferred one, you need to know all the boons and bans of EPE foam profiles.
Shock Absorption
The very first advantage of the EPE foam profile is none other than its shock absorption capacity. EPE foam profile has a closed cell pattern which makes it capable to tolerate and consume high portions of stress and shock. This feature offers excellent cushioning to the products which are covered by it.
Fireproof
The next advantage of the EPE foam profile is its excellent fire resistance and soundproof quality. Among various packaging materials, the EPE foam profile provides extraordinary fireproofing qualities. For this reason, there are lesser chances of any mishap while transporting the goods.
Moisture Resistance
The next considerable boon of the EPE foam profile is its moisture resistance. There are so many other packaging materials like polyurethane foam that do not provide moisture resistance. The chemical structure of EPE foam makes it almost impenetrable. EPE thus does not consume water or permit it to pass through. The goods that you pack with an EPE foam profile are less likely to catch moisture. This can make the goods keep their originality for up to longer times.
Long-lasting
The next notable benefit of the EPE foam profile is its longevity. Most packaging materials often lose their glow and efficacy after a long time of use. But the EPE foam profile can be usable and look like new for years without any hefty maintenance.
So these are some of the major benefits of the EPE foam profile. EPE foam profiles can be a little costly when compared to other materials like polyurethane foam profiles. But the enormous benefits it offers to the goods are praiseworthy.